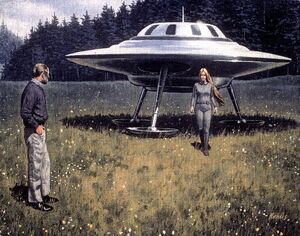 Basic Biology of Nordics. Nordics are humanoid and externally almost identical to humans. There are subtle differences in the Nordic alien physiology, and most of them are based on the living conditions that they have grown up in. Their planets are extremely hot and dry, and have a low oxygen content in the atmosphere. They have a larger lung capacity than humans and have a copper based blood in order to carry oxygen more efficiently. The eyes are protected by inner lids and can allow them to see into the ultraviolet range of the spectrum. They have only 28 teeth, as they lack a back pair of molars. Their heads are longer than humans. The brain case is about .2 mm thicker and the bone is harder. The brain is the same as the human brain as far as structure and size is concerned, except for the midbrain area, where there are functions that allow telepathic and telekinetic skills. It explains the psionic powers of the Nordics. The skin allows moisture to be drawn from the air as well as moisture to penetrate. The heart beats at around 242 beats per minute, and the average blood pressure is 80 systolic and 40 diastolic. They have extremely dilated blood vessels. The heart is located where the human liver would be. The cartilage that would protect a human heart extends down 3.5cm further in the Nordic in order to protect this structure. Blood cells are biconvex in contrast to the concave cells of humans. Kidney type functions only allow about half the liquid consumed to be excreted. The rest is evidently put back into the system. Urine is thick with minerals and appears in color and texture to freshly pumped crude oil. Feces are dry pellets with all moisture removed. The adult Nordic can regulate the amount of adrenaline in their body. They have no pineal gland. Nordic females are capable of being impregnated at any time.
Ad blocker interference detected!
Wikia is a free-to-use site that makes money from advertising. We have a modified experience for viewers using ad blockers

Wikia is not accessible if you've made further modifications. Remove the custom ad blocker rule(s) and the page will load as expected.